Global innovation comes to Collision
1,727 startups and partners from 76 countries descended on Toronto for one of the world's largest tech events.
​​Hoping to collide with angels and investors, nearly two thousands startups and partners from 76 countries and thirty industries convened at Collision in Toronto.
For attendees, it was a chance to take a peek at the future of tech. For exhibitors and startups, an all-access pass to global players, all under one roof. Indeed, floor exhibitors spanned the globe: Italy, Kosovo, Portugal, South Korea, and more.
The worldwide innovation and startup scene has had a rollercoaster few years. 2021 saw next-level growth, a trend that continued into 2022, until conflict and an energy crisis in Europe, supply-chain disruptions, layoffs, and inflation meant a period of instability. This has lasted into 2023, though at this midpoint of the year, there's been an upswing.
According to Startup Genome's Global Startup Ecosystem Report 2023 — generated from analysis of data from 3.5 million startups across 290 global ecosystems — VC funding is still down, although gaming, blockchain, and fintech all saw increases. The AI and Big Data sub-sector has the highest number of total VC deals, with 28% of the global share.
Entrepreneurs from around the world are seizing opportunities to disrupt industries, solve pressing challenges, and create innovative solutions. Collision is just one place to help make that happen.
Here's a look at four countries that came to town.
Kosovo's rapid growth
At just fifteen years old, the small Balkan nation of Kosovo came to Collision hoping to position itself as a burgeoning tech incubator — with a workforce less costly than most others in Europe.
Representing the country were Sedat Burrniku, Toronto's Consul of Kosovo, and Fatos Idrizi from Pristina-based Kreahub, a company that mainly does web design, web development, branding, and digital marketing. Tenton, a software development company from Kosovo, was also part of the team.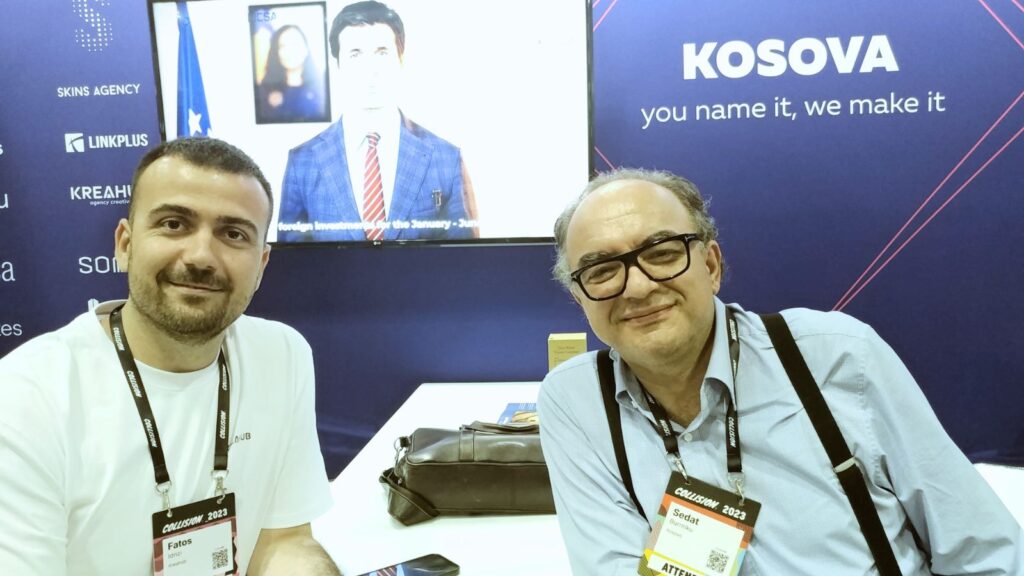 "Kosovo is a young country. It has a lot of potential in IT, among other fields and concepts. So, we would like to introduce our companies to the rest of the world," Idrizi said, adding that his country has one of the highest Internet user rates in Europe, at 96.4% among a population of nearly two million.
One of their biggest success stories was a made-in-Kosovo project dubbed "NatEv Explorer," that detects natural disasters and catastrophes around the world, and won the NASA International Space Apps Challenge in 2015.
"Kreahub is a young company with potential ahead," explained Idrizi. "It is a first year for us. We finished, already, four projects in the US, one in Germany, and one in Switzerland. So, there is a huge market ahead. Also, today, I got a call for another project in the US."
Last year, Forbes featured an op-ed by Fatos Ameti, CEO of the Kosovo-based Sonnect, outlining the country as a "one to watch" in the tech and IT industries. He noted that the information/communications tech ecosystem, "is extensive, with numerous labs, innovation centers and workspaces… that provide startups with mentoring, financing, incubation, training and co-working spaces."
Portugal: small but mighty
Isabel Advirta, from Lisbon City Council, noted that 13 startups from Portugal were present, showing as alpha or beta stages.
"Portugal is not a very big country, and Canada is a very big market, and a way to enter a greater market – which is North American. So, there are a lot of startups looking for greater investments or to scale to different markets," she said.
"We have a lot of different verticals that are growing strong in Lisbon. We have Web3. We are also investing in fintech, impact, mobility is also strong," she said, adding that startups in Lisbon are especially focused on health tech, sports tech, and gaming.
To date, she said Lisbon boasts seven unicorns.
"The companies that want to scale to high levels of investment have to leave the country. What we are doing is trying to change this situation, bringing more investors to Portugal," she said.
"It happens all the time that when they learn what is going on there, hear the pitches, they get interested. The trick is to let him hear. Sometimes it's hard for investors to have that space, but when they do have that space, the opportunities are there."
Benvenuti Italia
While Rome and Milan both have active startup ecosystems, Startup Genome's report lists Turin as one of the top 35 European ecosystems for affordable talent. With over 110k students, it's easy to see why. An in-the-works Italy Digital Nomad Visa will also boost numbers to both the country and region. The northern city is specifically cultivating growth in the areas of Smart Cities, space technology, and AI, Big Data, and analytics.
And in the fintech space, Mara Vendramin — founder and CEO of My Money — was at Collision's Italy pavilion showing off a completely biometric form of handheld payment device that uses a fingerprint instead of a plastic debit/credit card — just one of the country's 12,000+ startups.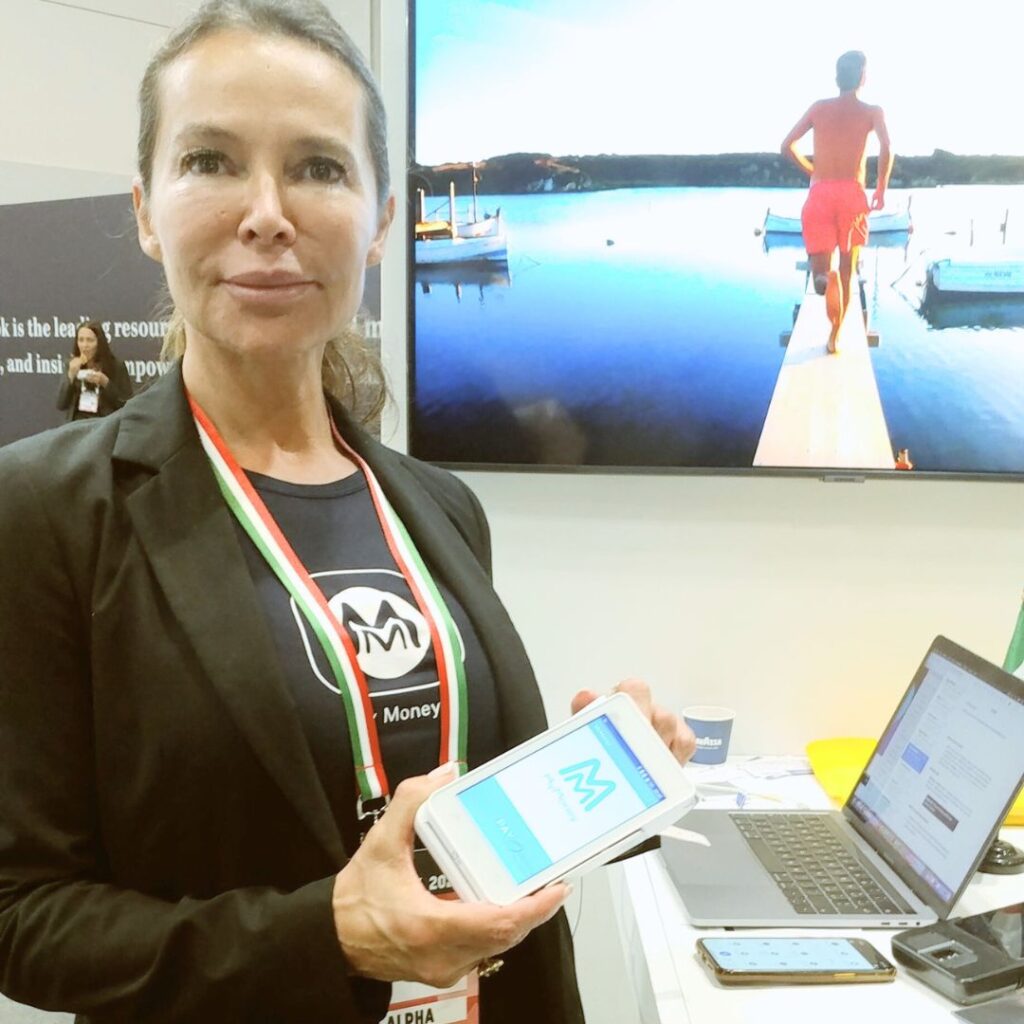 "Most importantly, it will democratize payment for everyone. Because today, the latest technology you can use to pay is with a smartphone – an expensive smartphone. With our system, all the people around the world will be able to pay, even if they don't have a smartphone."
Fraud will be "impossible" because fingerprint readers are FBI certified, she said. "For example, if I chop your finger and use it to pay, it will not work. The readers have 'liveness' detection. So, they will be able to realize if the finger is alive or real." This will, she hopes, eliminate credit card fraud, and streamline faster payment at store kiosks.
South Korea at the forefront of innovation
South Korea does have a reputation as a tech and innovation centre — after all, it's the home of companies like Samsung and LG. But as a startup ecosystem, it's one of the world's most thriving. In fact, Startup Genome has Seoul at #12 in its global ranking. It's also in the top 15 for knowledge and for talent and experience. The ecosystem's strengths? AI/Big Data/Analytics, life sciences, and advanced manufacturing and robotics, reports Startup Genome.
At Collision, Hyunjin Shin, CEO and co-founder of Seoul's Hudson.ai, is featuring their AI-powered dubbing solution to the film industry. It matches translated audio with natural mouth movement in any language or voice.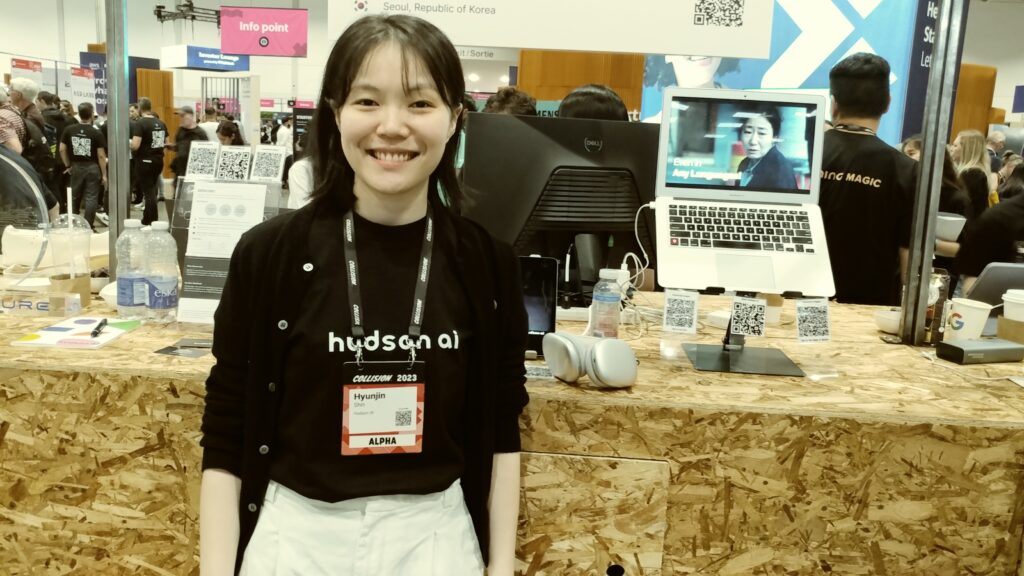 "Sometimes, people are struggling to see a movie because of subtitles or the awkward dubbing," she said. "The voice actor's voice is sometimes really different from the original content. Also, it doesn't match the lip and sound. It makes you very disengaged. We would like to tackle that problem with generated AI technology."
With a staff of nine, in its first year they have already dubbed two Korean feature films. She said the company is hoping to gain a foothold in documentary films and US major motion pictures.
Like countless other South Korean startups, Hudson.ai benefits from their government's support, Shin added. "They also have many programs to help accelerate an early stage company – especially tech companies," she said. "My country has more and more an entrepreneurial culture, with mentorship, funding, and networking opportunities."
Companies like e-commerce app Coupang and mobile platform Kakao have achieved significant growth and valuation, inspiring and attracting aspiring entrepreneurs, she explained.
---
The interconnectedness fostered by Collision has created a fertile ground for innovation, where diverse perspectives and expertise converge to tackle complex global challenges.
As a four-day innovation station, no doubt many deals were made — a testament to these startups' hotbed of creativity, disruption, and economic growth potential. The global startup ecosystem continues to thrive, pushing the boundaries of what is possible and shaping the future of industries worldwide.
Dave is a journalist whose work has appeared in more than 100 media outlets around the world, including BBC, National Post, Washington Times, Globe and Mail, New York Times, Baltimore Sun.
mesh conference goes deep on AI, with experts focusing in on training, ethics, and risk
The mix of topics is a major part of the appeal. So is the opportunity to have genuine conversations.
The mix of topics is a major part of the appeal. So is the opportunity to have genuine conversations with senior leaders, and doers, across so many industries for two days.
Day one of the mesh conference was all about navigating innovation, privacy policies, and diversity in a tech-driven world, and day two was all about artificial intelligence (AI) and its impact on media, marketing, business and society.
AI is everywhere, but this day hit different.
"I sat beside a marketer this morning who said he came to mesh because he was interested in the topics, but that he also knew lots about the subject matter so he wasn't sure how much he'd take away," said mesh attendee, Sarah Coleman who travelled from Calgary to see mesh in Toronto.
"But after a full day of talks, he said to me that he was totally surprised by the cross-industry perspectives shared, and he walked away from the first day with thoughts he had never considered. For me, that's the biggest value of mesh and it's why I travelled across the country for my second mesh conference this year."
Day two opened up with a frank discussion about the training of artificial intelligence (AI) and data sources with Elena Yunusov, AI strategy and marketing leader with the Human Feedback Foundation.
Yunusov recently started the foundation to crowdsource the human feedback layer that's missing from private AI models. Private models will continue and make decisions we won't agree with, she said, but open source initiatives offer the chance for more innovation and better-informed applications.
"We should have more say about how AI is shaped and developed," said Yunusov.
There are a handful of models influencing us in ways we may not understand. But the Human Feedback Foundation is a small, but mighty open-source project trying to make AI less toxic and more empathetic.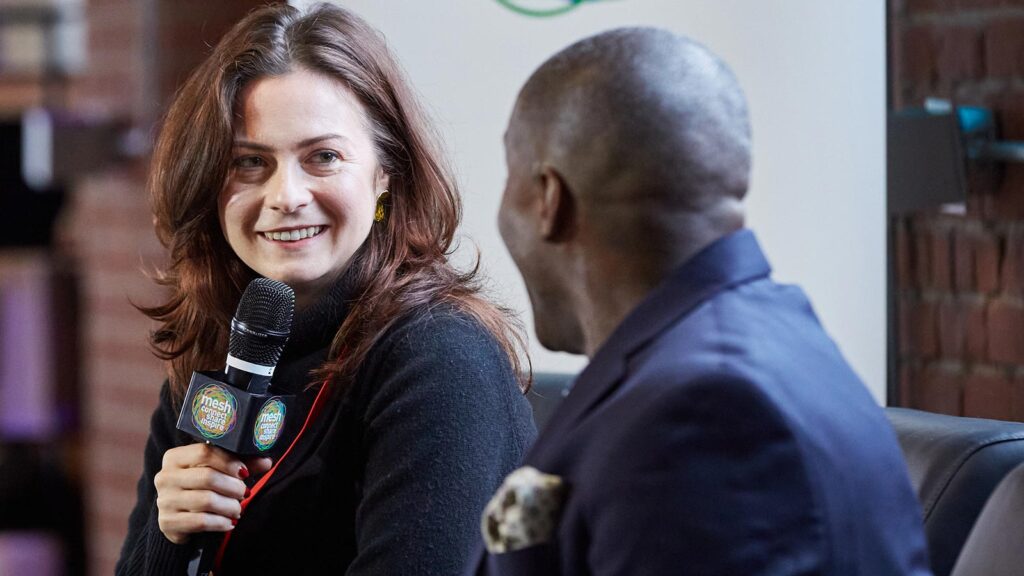 Use human feedback to bring the human voice back into data
After opening remarks, Yunusov continued the AI discussion with Darnel Moore, founder and CEO of Distinct.ly, who sees technology as a tool to connect with people. "We need a way for people to see each other and for businesses to see those people," said Moore.
Businesses just want to see the data point — not its context. But cognitive bias tells us that time, place, and situation influences people's decisions, so the data means nothing without context.
Moore said somewhere along the line people became a bug, rather than a feature, for businesses and that needs to change.
"It's important to get yourself out of the loop of data and buzzwords," he Moore.
It's hard when you're driving hard and fast not to attach yourself to buzzwords. But it's not about pitching, selling, or moving your product — it's about connecting with people.
Both Yunusov and Moore expressed puzzlement around the anxiety many people have around AI handling routine tasks.
"Machinery is levelling human beings up from the mundane," said Moore. People can now be more creative and learn in ways that weren't possible before, he added.
"We have agency in this and the tools we never had before to get us to the next stages of that journey," added Yunusov.
We're living through a bit of a reckoning in tech, she notes. Things are going to change, but how they change should be up to us.
"Change is part of the human experience and we're just doing it with different tools now," said Yunusov.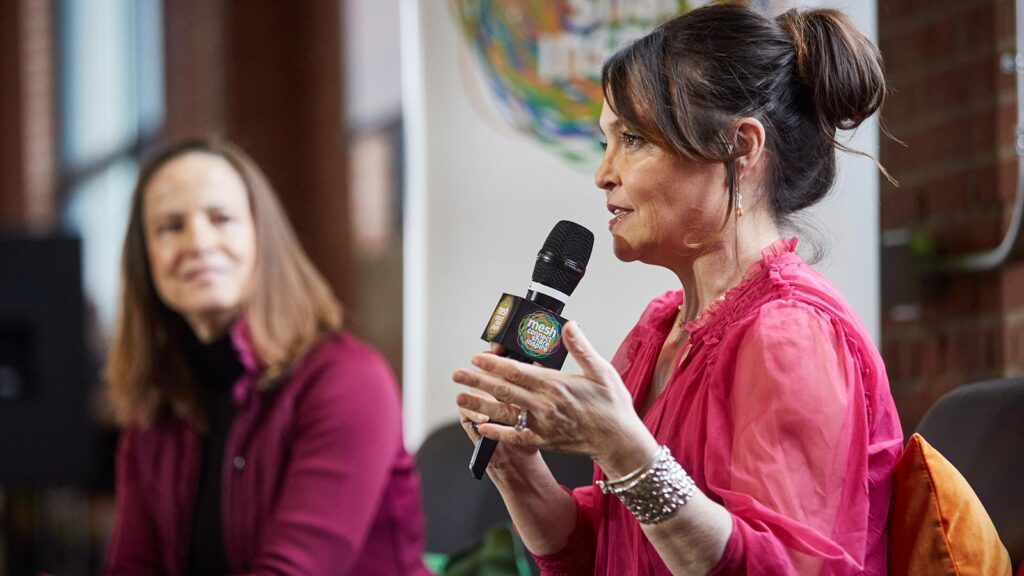 AI is a very divisive concept
Rika Nakazawa, global vice-president with NTT's New Ventures and Innovation team, joined mesh fresh from COP28's World Climate Summit in Dubai where there were two camps — one that believed AI is going to be the end of our ability to attain sustainability goals, and the other that thought it would bring the dawn of a new horizon.
Amy Peck, founder and CEO of EndeavorXR, agreed. On one end of the spectrum, it's the great saviour. We'll be able to leverage it and achieve all our goals, she said. On the other end is the doom and gloom.
Peck said business leaders need to start understanding data better, urging for bias-free data to be the foundation for AI training algorithms. We're equal in our humanity, said Peck, so we must learn to embrace our differences rather than vilify them.
"AI is an overnight success, 80 years in the making," said Nakazawa. "There's nothing artificial about artificial intelligence."
It's all made — binary code is mimicking our brain.
"We have to retrain ourselves to work with AI and not just hand over our tasks to AI," Peck said.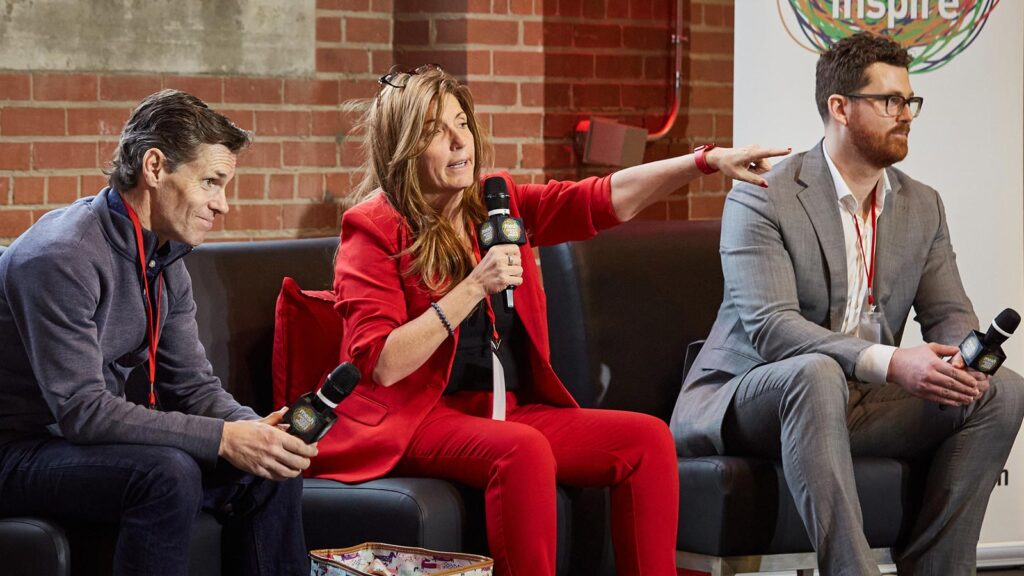 We needed to manage and prevent food waste
For this event, the mesh conference partnered with Second Harvest to ensure unused food served at lunch would not go to waste. Using Second Harvest technology, unused packaged lunches were donated to a local charity.
"It's the eHarmony of food," joked Lori Nikkel, CEO of Second Harvest during a fireside discussion.
Nikkel was joined by Winston Rosser, VP of Food Rescue Operations at Second Harvest, who demoed the technology built to help conquer food insecurity and food redistribution.
Rosser explained that the app connects a variety of donors, from small retailers to major grocery stores, with local, non-profit charities who need food. Before the platform was built, huge trucks were sent to pick up 20 lbs of food from a grocer and take it across the city — an option that was not sustainable. Now, donors can easily connect with one of more than 61,000 charities via the platform.
Rosser also shared some startling stats:
58% of all the food produced in Canada is lost or wasted, mostly ending up in landfill.
3.9 million Canadians are food insecure.
Only 4% of food businesses were donating food.
Since the launch of the app, Second Harvest has flipped everything on its head. In 2016 the organization rescued nine million pounds of food, but after the app was deployed, that number skyrocketed — in 2022, nearly 75 million pounds of food was rescued in 2022. Last year Second Harvest kept food worth $234 million out of landfill.
When asked why there's so much food waste to begin with, Nikkel offered a sober response: "We don't value food," she said, adding that we've commoditized food to the point where we don't value it like we used to. An example: many people will buy food in a two-for-one deal even if they don't need it, and oftentimes it's simply thrown out.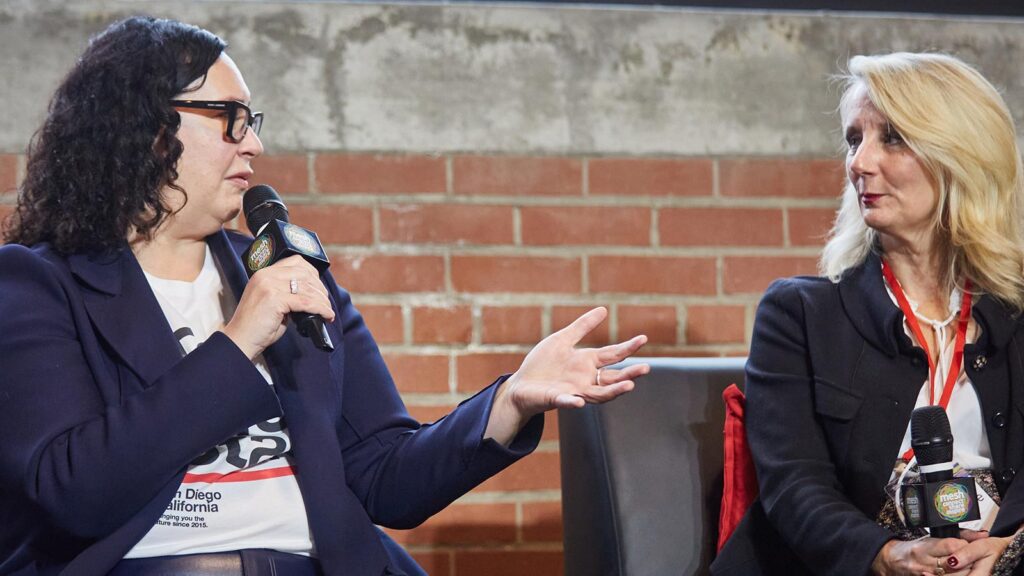 Adoption requires sponsorship within the organization
Afternoon discussions on day two of the mesh conference also looked at laggard industries, and professionals who can be resistant to change.
Colleen Pound, founder and CEO of Proxure, and Mary Jane Dykeman, managing partner at INQ Law, talked about the difficult task of integrating AI in law and healthcare — two industries that can be averse to technological innovation.
"Their aversion creates a lot of white space to work in," said Pound, adding that progress looks like evolution rather than revolution.
Dykeman agreed, adding that change in situations like this often takes a foothold when a series of low-risk initiatives are the starting point. Ultimately, they can lead to larger transformations.
In addition, privacy and data security are major issues for both industries that need to be managed first, Pound said. Data management is the starting point.
"Better data and better processes drive better business outcomes," Pound said.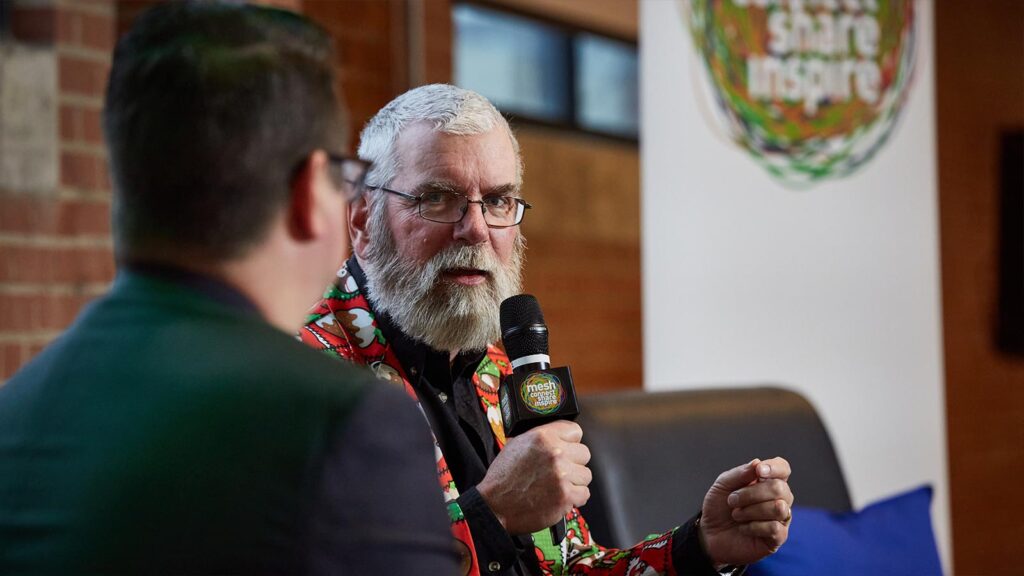 AI is what you make it
The day's closing panel included a conversation on AI in media, featuring mesh co-founder and media pundit, Mathew Ingram.
Ingram joked that he would be terrified if he was starting his journalism career today. As the chief digital writer for the Columbia Journalism Review, Ingram noted that distributing information is easier today, but distributing disinformation is also easier.
"The quality of the disinformation doesn't matter," Ingram said, saying people believe disinformation because they want to believe it.
"A nine-year-old could think of a more plausible conspiracy theory than some of the ones I've seen people believe," he said.
Chris Hogg, president and founder of the content marketing firm Digital Journal Group (DJG), said he sees B2B content marketing rolling back to what high-quality journalism used to offer. Hogg said success can now require businesses to produce less content, and instead focus on quality and distribution to stand out and drive results.
The fireside discussion also looked at the risks AI poses to the media industry.
AI may not always be able to make things better, but it has great applications as a technology to support journalists.
"It's a tool that you can use and do things that help you and are valuable," said Ingram, noting that transcription, story idea generation, and automating mundane tasks are big benefits offered by AI.
While there are considerable risks with OpenAI's accuracy, deep fakes, and fake AI content, Ingram said the technology is still important.
"I'm a big believer in the power of individuals to change things," he said. "There are things we thought would be inconsequential, but have changed the world, for better or worse."
–
Join us next year in Calgary for the mesh conference, June 11-12, 2024. The two-day event then returns to Toronto the week of October 21, 2024.
DX Journal covers the impact of digital transformation (DX) initiatives worldwide across multiple industries.
Navigating innovation, privacy policies, and diversity in a tech-driven world
The mesh conference came back to Toronto after nearly a decade, diving into how digital transformation touches inclusivity, climate change, and marketing.
While kicking off day one of the mesh conference, co-producer Chris Hogg remarked that "mesh is about people on the move."
This is the second mesh conference of 2023 after nearly a decade-long hiatus, with the first occurring in Calgary in April. All mesh events follow the same format: no formal presentations or pay-to-play panels. The result is unique conversations about transformation and innovation with animated, real-time discussions.
New and returning "meshies" filled the space, excited to take part in dialogues about how to interconnect business, media, technology, society, and marketing — and further, change how we think, organize, operate and behave in these spaces.
When digital policy is not revisited for decades, it's important to prioritize the issues
Canada has been operating under the same privacy policy that was put in place in the early 2000s. Had we known the policy was going to be in place for nearly 25 years with little change, it would've been a different conversation, said Dr. Michael Geist, Canada Research Chair in Internet and E-Commerce Law at the University of Ottawa.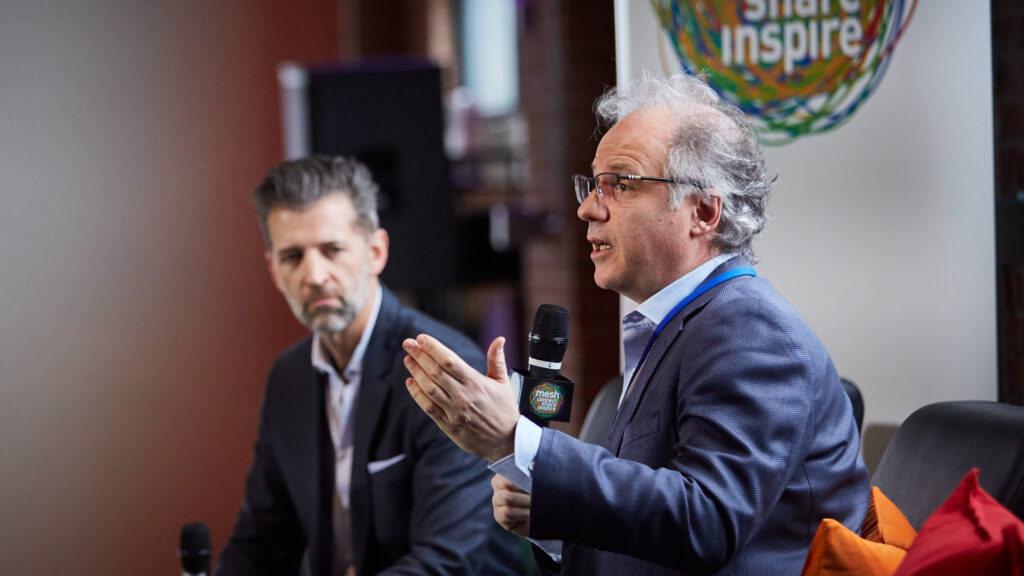 Geist came to mesh the day after testifying at the Canadian Radio-television and Telecommunications Commission (CRTC) on Bill C-11, which will set out broadcasting policies in Canada. But Canadian news agencies are currently struggling with another barrier — since August 1, 2023, Meta platforms (namely, Facebook and Instagram) have banned sharing news in response to legislation demanding compensation for publishers.
The government thought that Google and Meta were stealing their news, but Geist says that wasn't the case — it's users that are sharing links and driving traffic.
"This legislation's been pretty disastrous," said Geist.
Now, smaller outlets that rely on their communities are feeling the pain with lost traffic, fewer publishing partners and decreased revenue with some websites even ceasing hiring or shutting down completely because they can't afford to continue.
"We need to listen to everyone and I don't think that's happening," he said. They were trying to help legacy companies, but they've now put independent media at risk.
Geist was also asked if Canada needs to move faster when defining digital policy. He called for more reflection and purposeful-thinking.
"On many of these issues, it is better to get it right than get it fast… There's no first move advantage here," he said.
The fact that public safety is at the heart of many of the issues complicates discussions as everyone thinks about how we provide appropriate safeguards, but also preserve the right to free speech. As some policy consultations will continue in 2024, Geist encourages those with something to say not to miss their opportunity to be heard.
"Don't wait until it's too late."
Technology will be at the core of every business going forward
The second panel of the day was the mesh innovation showcase, which featured a mesh moment with recipient Christa Hill (Tacit Edge), Alicia Kalozdi MacMillan (mesh) and Amber Mac (AmberMac Media).
The initiative recognizes innovation and digital transformation leaders from under-represented communities across Canada. People are encouraged to nominate someone they know since they're much less likely to put their own name forward.
"It's not just for Apple. It's not just for Google. It's for you too," notes Hill.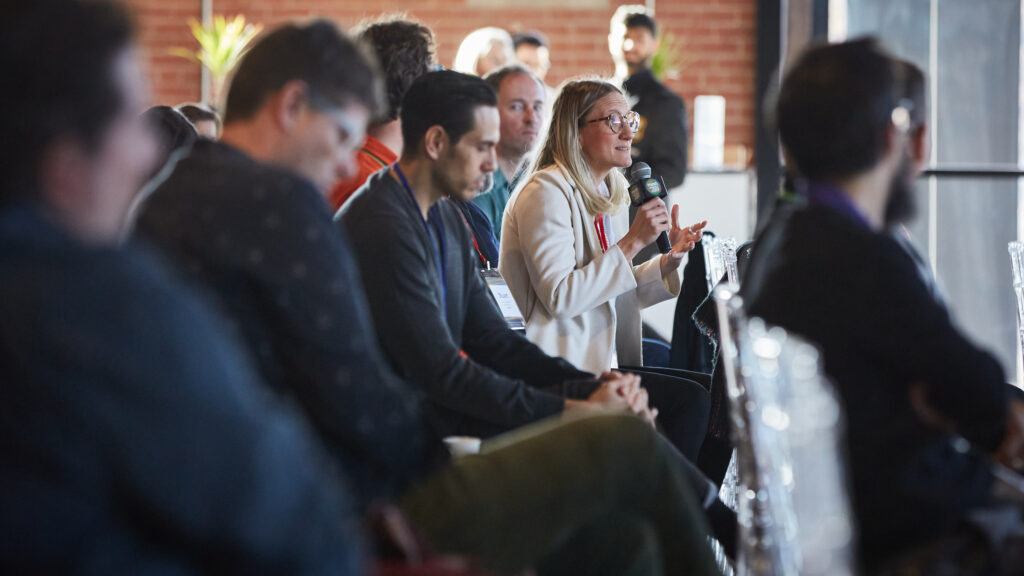 If you're building a product for everyone, everyone should be involved
It's long been acknowledged there is a gap in the tech industry when it comes to hiring women, particularly in non-entry level roles. So after repeatedly witnessing this shortcoming, Marissa McNeelands decided to co-found Toast, a talent agency focused on matching qualified women with technology positions.
Women make up about 60% of graduates of STEM programs, but only 23% of the STEM workforce in Canada. Moreover, women often leave the tech industry around age 36 because there's little opportunity for career advancement since they have more difficulty obtaining the requirements for leadership positions.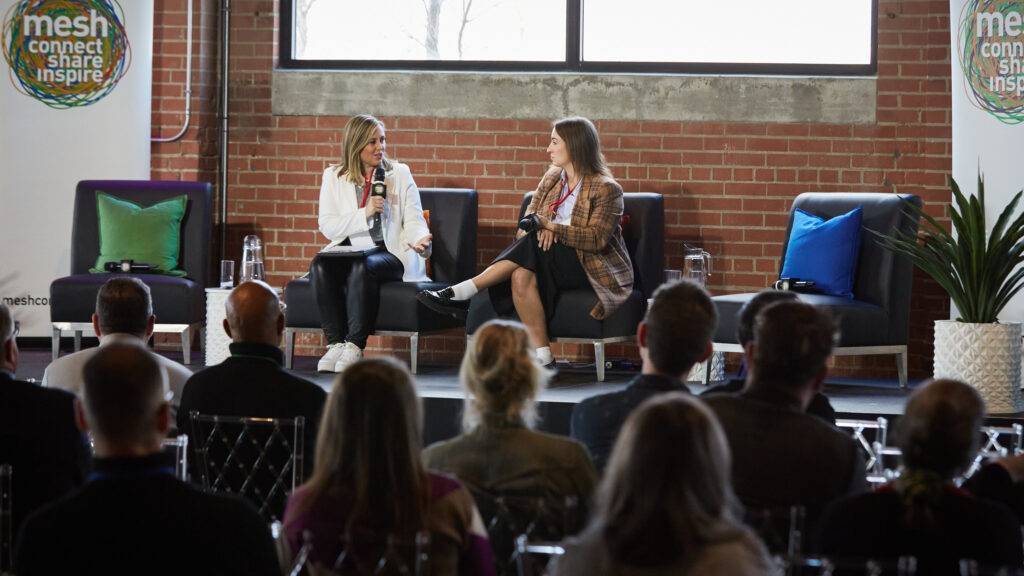 To combat these issues, McNeelands advocates for mentorship and sponsorship. The burden of mentoring is often put on other women, but it's just as important for men to mentor their women colleagues and sponsor them for promotions and leadership roles.
The data shows that a more balanced team generates better results as companies can no longer rely on a single line of thought or single experiences. But McNeelands notes, "If you want a more diverse workforce, you have to put work into it."
AI is a co-pilot
It would be impossible to have a discussion about AI without talking about the risks — but the panel discussion "AI, Creativity, and Inclusivity: Empowering Tomorrow's Marketing Leaders" was primarily focussed on the benefits and opportunities it presents.
Anne-Marie Enns from Global AI school Mia, hosted a casual conversation with Liberty White, CEO of CHOZEN MEDIA, Natalie Black, Mia, and Prieeyya Kaur Kesh, also of Mia. The panelists discussed applications of AI in marketing and skills training and one thing that was clear by the end: the human element of creation is still irreplaceable.
There are many one-dimensional tasks, noted Kaur Kesh, and AI allows you to be more strategic and bring more humanity to your work versus being process-driven. Even now, as generative AI becomes more creative with image and video generation, the user still has the final call. AI isn't going to be aware of the cultural nuances you are, so the need for human input is not going away.
"Never use [AI] as a replacement, but as a supplement," she says.
Echoing this, Black notes the AI reacquaints us with our love of language and pushes the boundaries of human creativity. The brands that apply AI to productivity and efficiency are going to lose the ones who focus on experience, she says.
Everyone now has access to the same design tools, so it's leveling the playing field. Dismantling the system takes one step at a time, but Black says "you can't dismantle it if you don't know how it works.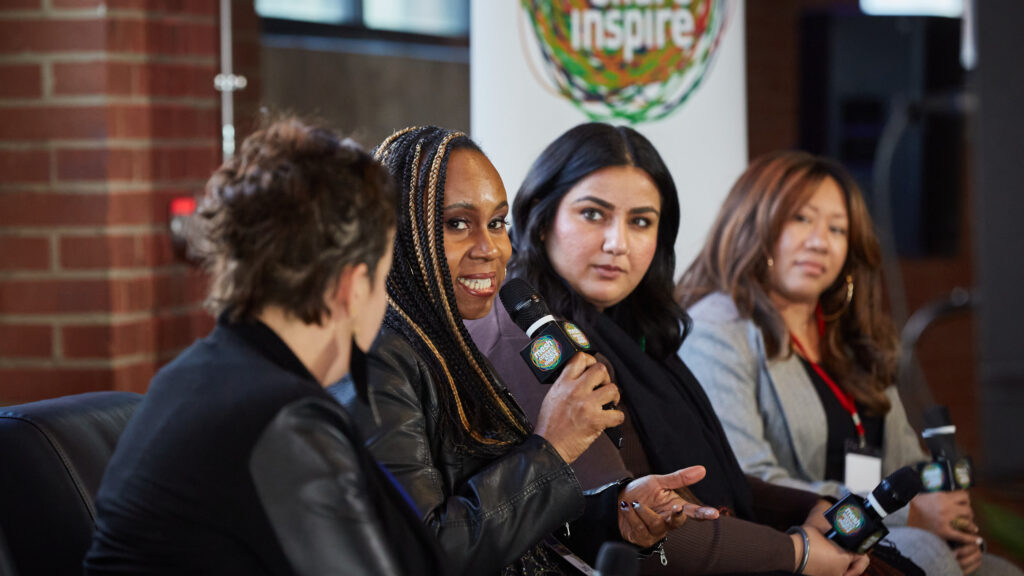 The people who have been doing this for a long time are now using AI to reach the masses, said White. But there are discrepancies in how the data is being collected and used, so it's important to look at who is being included. It's not just about the data, but the data's context, she says.
Innovation is not moving mountains
Innovation has become a buzzword, but it's the idea of coming up with new ideas and commodifying those ideas, said Council of Canadian Innovators' Dana O'Born. It's problem-solving complex issues, adds Tracey Bodnarchuk, CEO of Canada Powered by Women.
Bodnarchuk's organization surveyed women across Canada and their top priorities are:
Economic prosperity and affordable lifestyle
Energy security
Climate emissions reductions.
"These are very polarized subjects, but that competitiveness comes right back to how we're living," she said. "People are done with the polarization of these issues – they expect government and industry to work together."
And the fact that they're not, means we don't currently have we don't have the compromise that's necessary to be competitive.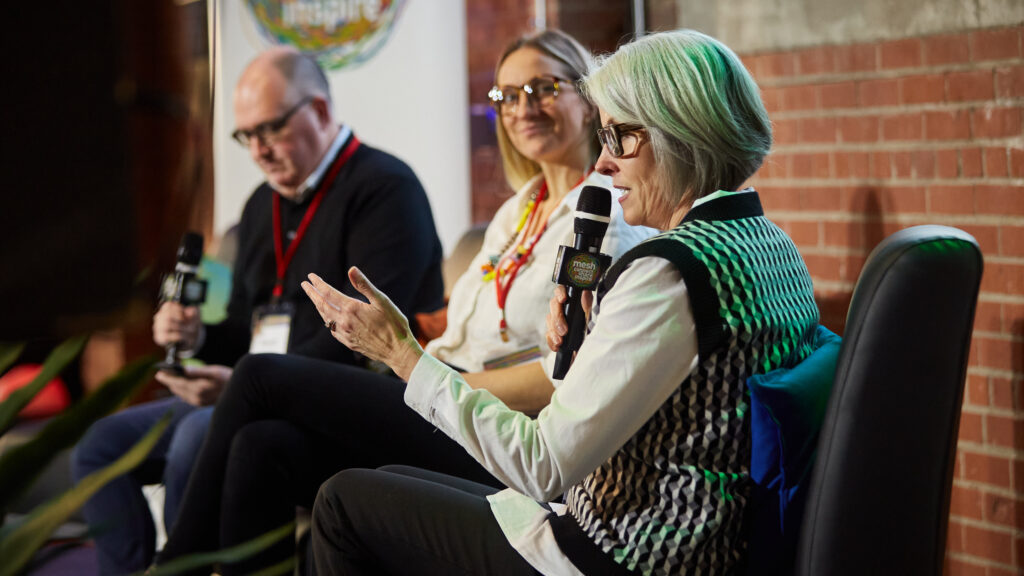 But things are changing.
"Canadian tech businesses have squared their shoulders and presented themselves globally in a way they haven't done before," said Stuart MacDonald. Compared to the 1990s, he said tech businesses are in "a much better position."
People are no longer moving to Silicon Valley after earning their degrees, but taking advantage of the resources available at home to create a business, make it global and attract talent from all over the world.
This has direct consequences for the Canadian economy. By growing big companies and generating domestic wealth, more taxes can be collected that can help pay for the social system, said O'Born.
Bodnarchuk agrees, noting we have to have a thriving industry to have a thriving social system.
How does bringing back the woolly mammoth help with climate change?
Colossal Biosciences is attempting the seemingly impossible: bringing back the woolly mammoth, the Tasmanian tiger and the dodo bird from extinction.
While this may seem like science fiction, Ben Lamm, Colossal's co-founder and CEO, says they hope to piece together a de-extinction toolkit that can help conservationists.
By reviving extinct species, Lamm thinks they can help address the world's current biodiversity crisis. If the crisis is left unaddressed, he says it could could lead to a loss of 50% of the world's biodiversity by 2050.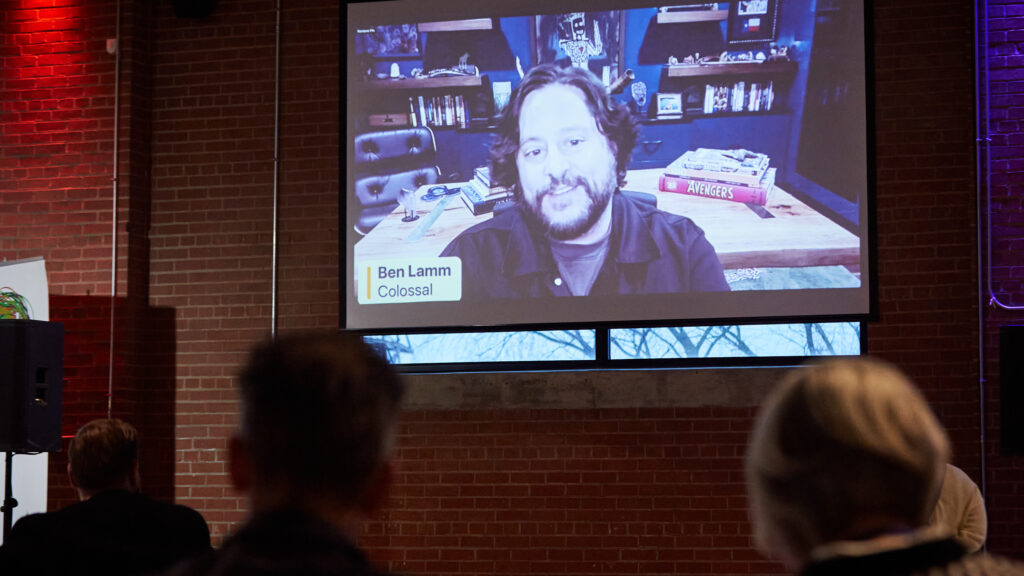 The selection of these animals wasn't arbitrary. They were chosen because they had the right answers to three key questions:
Is it possible to resurrect this species?
Would they serve a purpose in our current environment?
Are their current ecosystems similar to before they went extinct?
Additionally, Lamm notes that they're charismatic from a story perspective, making it easier to rally public support.
The result will be a more biodiverse ecosystem, while making the innovative technology available to other industries for other applications.
Synthetic biology is "probably the most powerful technology humanity has discovered," said Lamm. "It's akin to inventing computers and discovering fire."
It can be massively applicable to real world problems, but there's a "responsibility to take the right steps."
"Lets crawl, walk, run here,": he said. "Not open Pandora's box."
DX Journal covers the impact of digital transformation (DX) initiatives worldwide across multiple industries.
Top 5 tech and digital transformation events to wrap up 2023
A curated list of conferences and trade shows to help you plan your schedule and get the most out of these learning opportunities.
If you're looking to round out 2023 by attending a tech conference or two, you definitely have options. From niche events about specific technologies to massive expos, there's something out there for everyone.
Here are 7 of the top tech events for November and December 2023, focused on North America.
The 2nd Annual Digital Modernization Summit
November 2
Virtual
While not a full conference or trade expo, this two-hour session focuses on how to retire technical debt in an effort to accelerate business transformation.
The pandemic forced many organizations to rush forward with DX projects, leading to less-than-ideal coding and design decisions. Now, CIO reports recent survey results, showing that 72% of respondent organizations are behind on their DX goals because of these "debts."
The Digital Modernization Summit focuses on the business implications that come with moving from legacy systems to those that are cloud-based, the talent/technology/tactical perspective of operations, how emerging technologies can take their place in this modernization, and more.
More on the Digital Modernization Summit
---
TECHSPO 2023 
Dallas (November 2-3)
Las Vegas (November 6-8)
Phoenix (November 13-14)
TECHSPO brings together developers, brands, marketers, technology providers, designers, innovators, and evangelists to set the pace in our advanced world of technology. It's a series of expos that take place at the intersection of business, tech, and innovation.
All three of these events showcase the next generation of Internet, Mobile, AdTech, MarTech & SaaS technology, and how these can help grow your business.
More on TECHSPO Dallas, Las Vegas, and Phoenix
---
FWD50
November 6-8
Ottawa, ON and online
FWD50 looks at the cross-section of policymaking, technology, ethics, and invention.
Focusing on public sector innovation, FWD50 invites together technologists, industry partners, government executives, academics, civic technologists, and policy makers from around the world to talk about all things digital when it comes to governments.
With an incredible range of speakers — including public servants from all three levels of government — you'll learn how tech can reimagine how governments can work in a more streamlined way.
---
DeveloperWeek Enterprise
November 15-16
Virtual
Join over 3,000 enterprise dev professionals converging for a 2-day virtual conference & expo, featuring technology innovations and trends that corporations need to know about. Topics will include: DevSecOps, Organizing Dev Teams, DevTech Trends, Microservices, Containers, Kubernetes, and more.
More on DeveloperWeek Enterprise
---
mesh Toronto 2923
December 6-7
Toronto, ON
Billed as Canada's transformation and innovation event, mesh conference's successful Calgary event took place back in April, with big ideas and insightful discussions taking place over two packed days.
'Connect, share, inspire' is at the heart of mesh — especially since it's a proudly no-Powerpoint event! This conversation-driven event is packed with Q&As, panel discussions, and fireside chats. Audience participation is highly encouraged here!